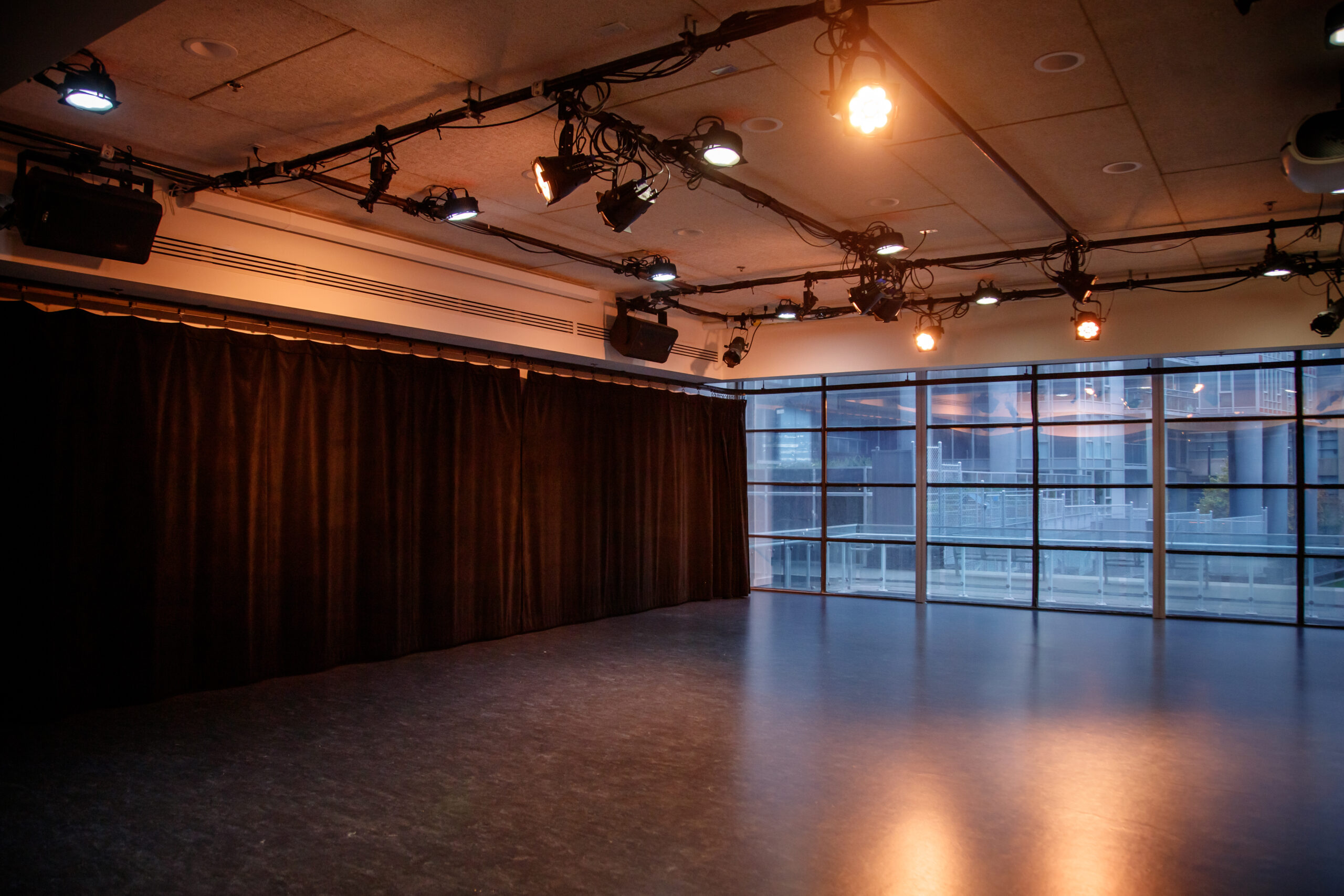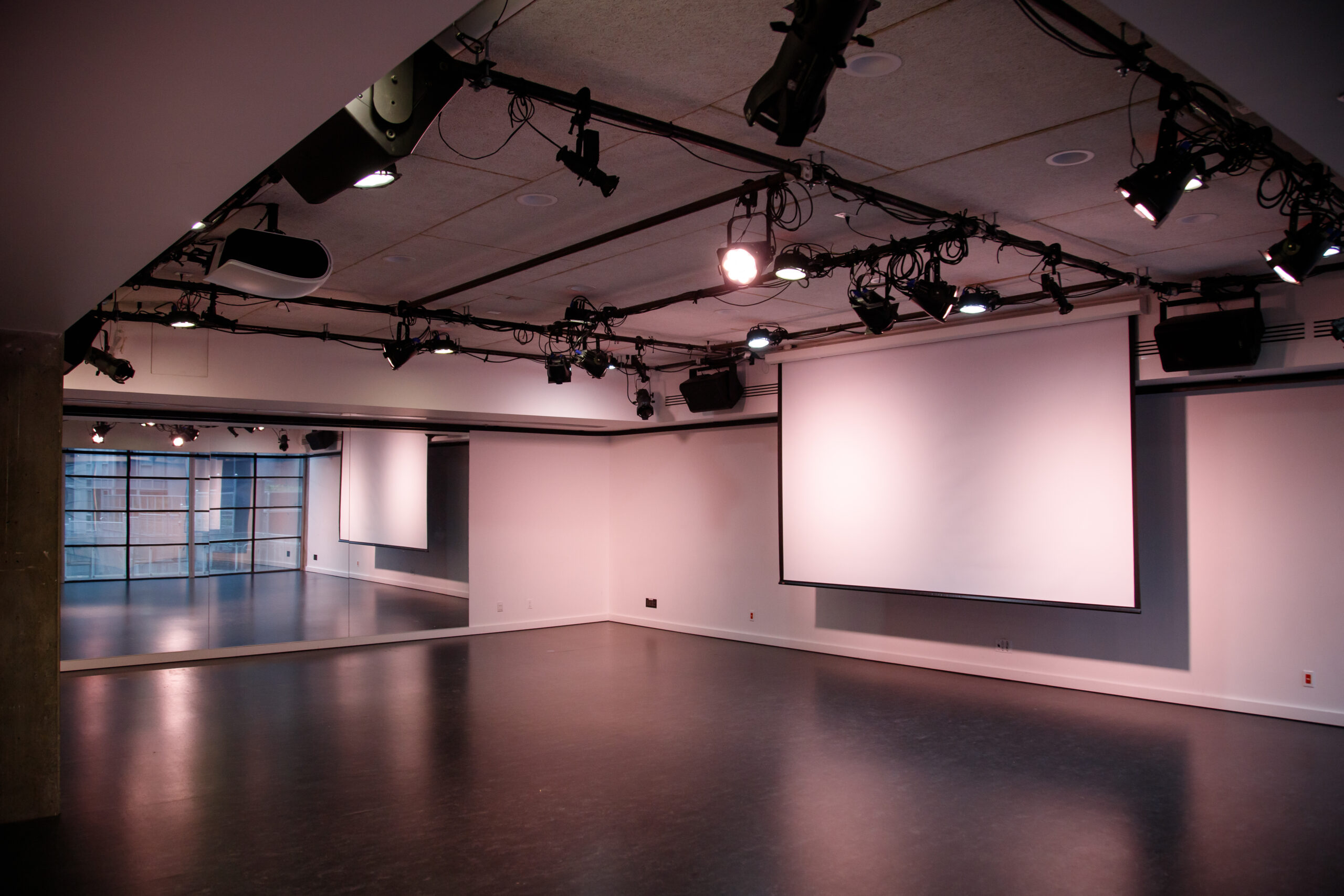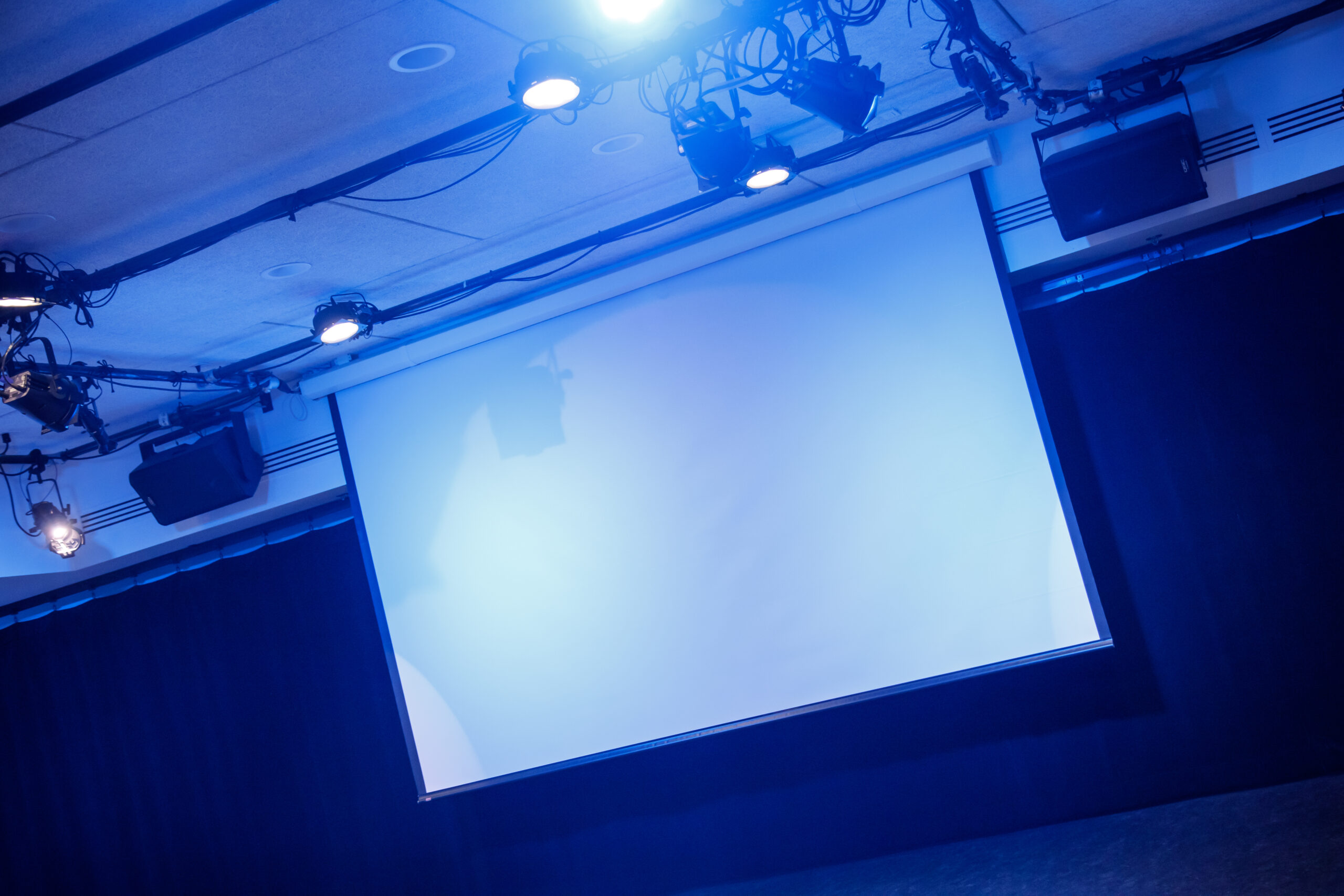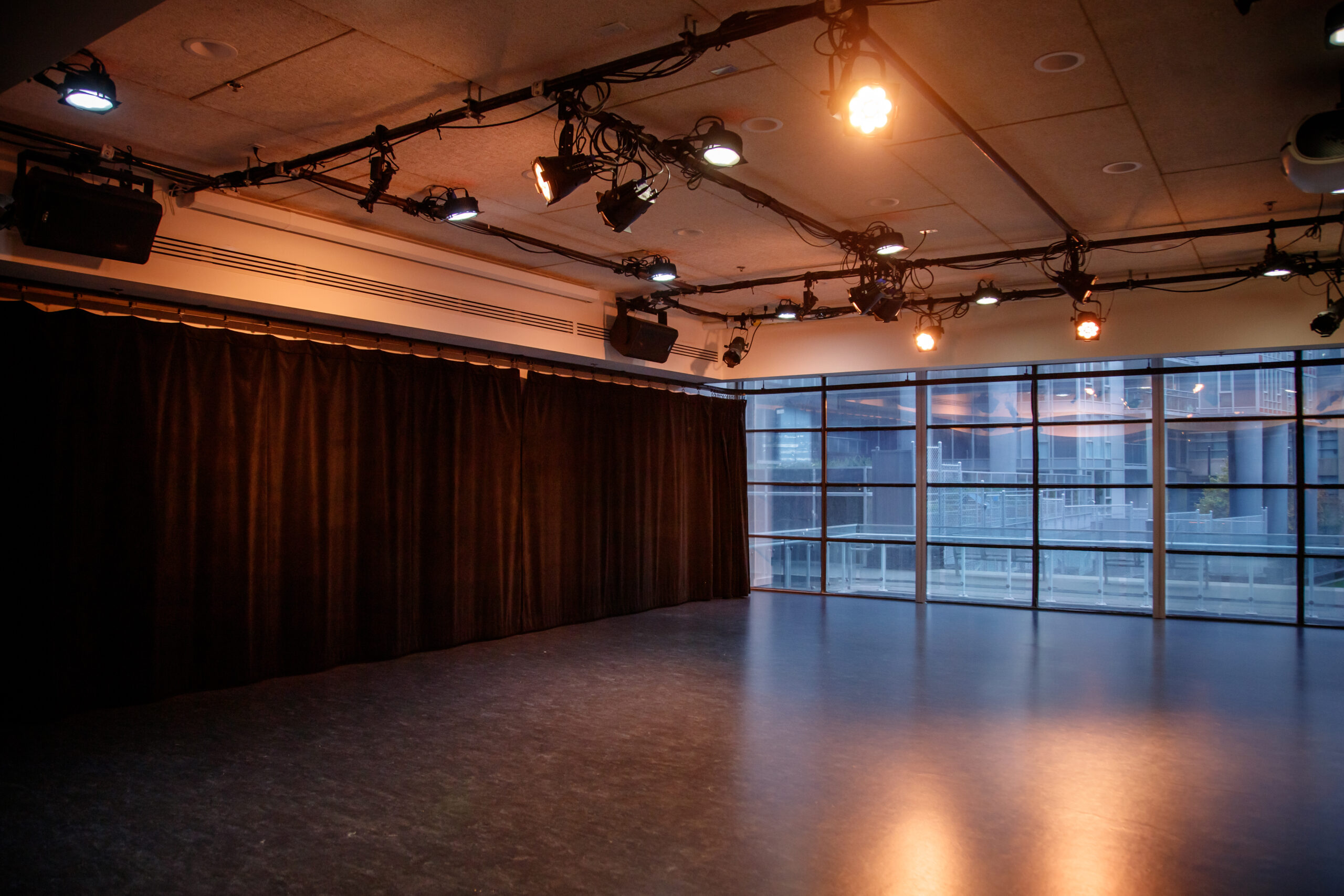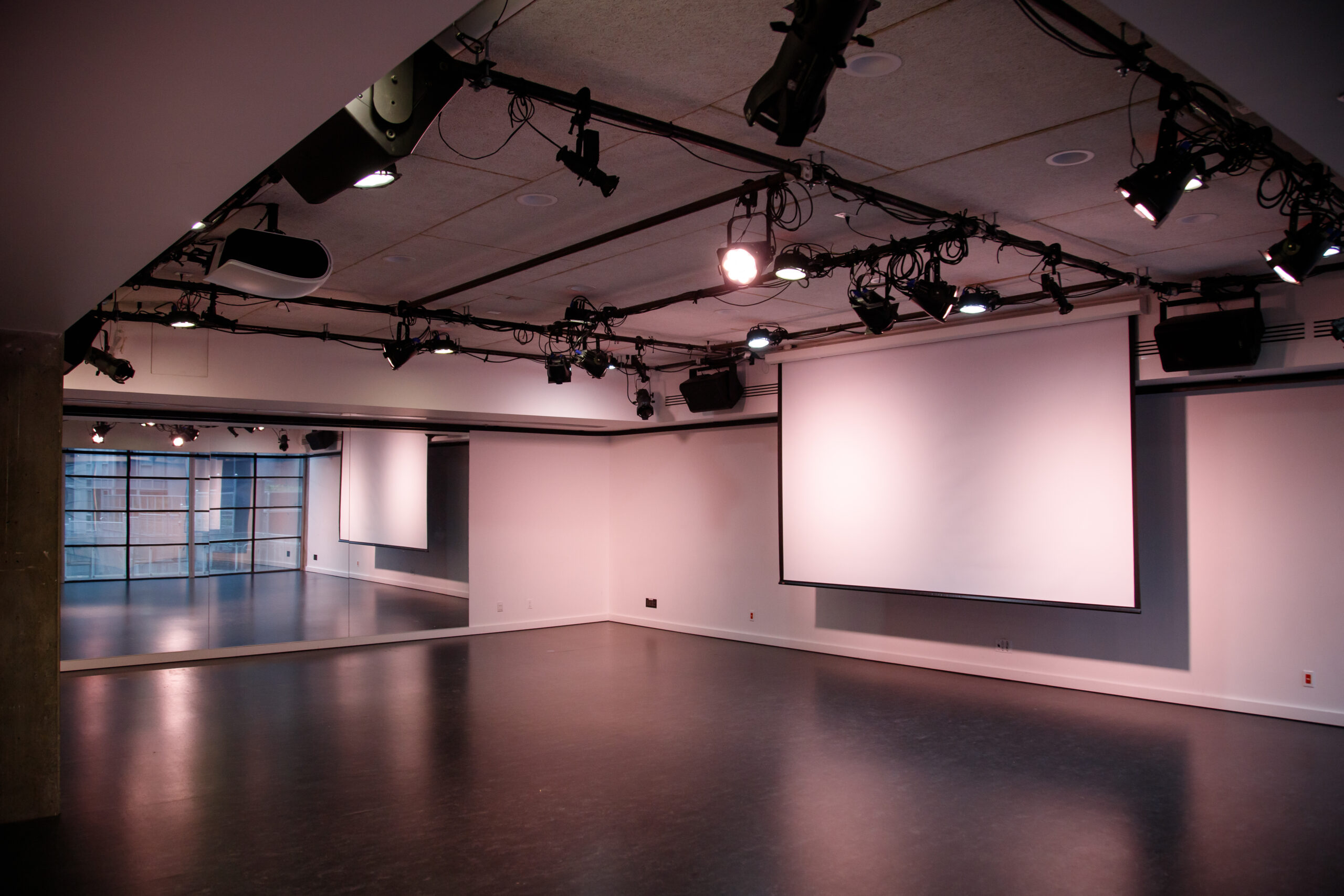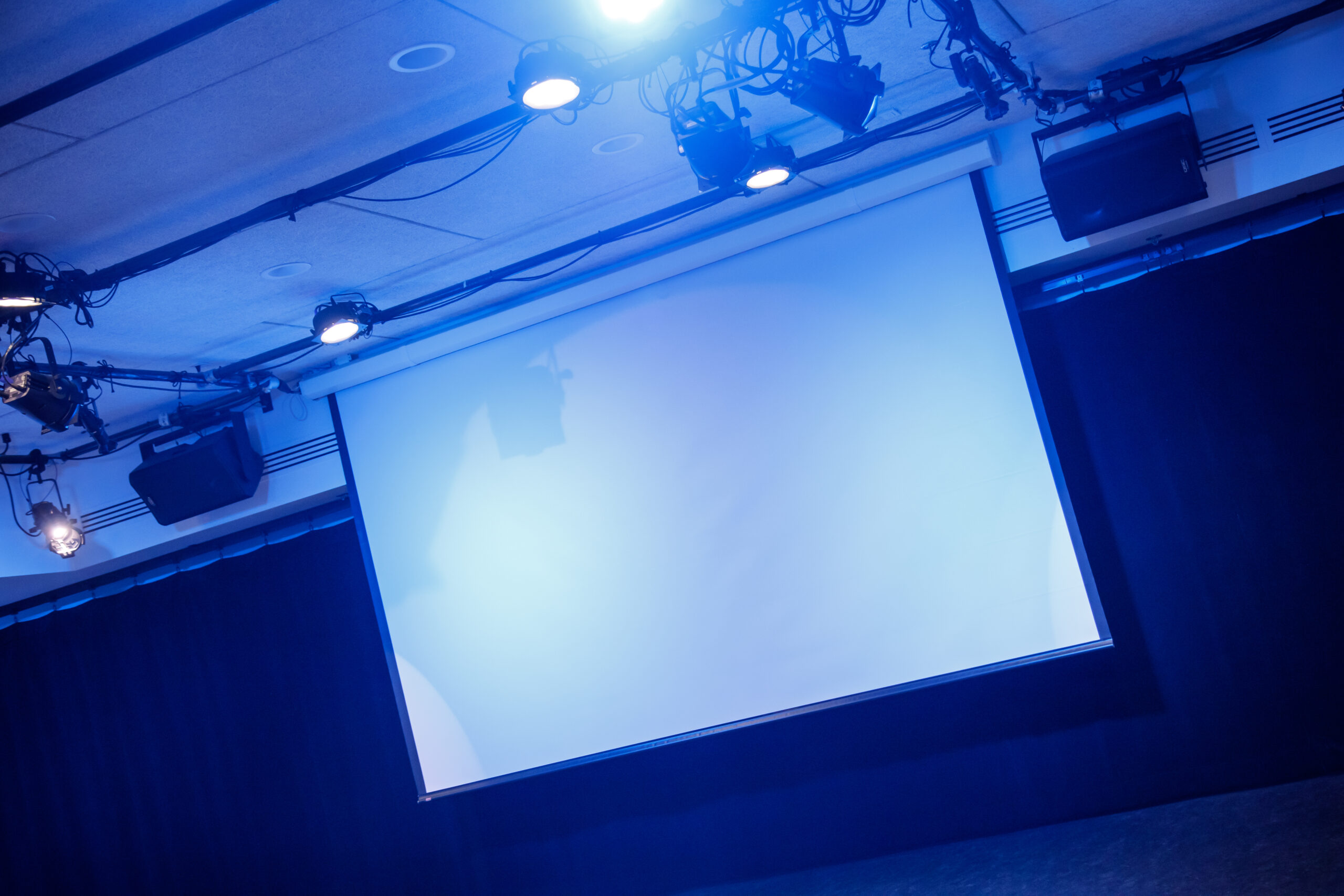 Our largest space at 1,100 sq ft, The Startup Studio is ideal for  rehearsals, meetings, workshops, receptions, or other invite/RSVP events. A variety of configurations are possible, and the room comfortably holds 40 people around tables, 60-70 in theatre-style rows, or up to 90 standing.
UPDATE: We are currently limiting rentals in the Startup Studio to 60 people.
All rentals include use of facility amenities. A detailed list of The Startup Studio equipment is below.
Rental Rates       Availability and Booking
Equipment
The Startup Studio has a sprung marmoleum floor, a floor-to-ceiling screen, ceiling-mounted projector, and A/V system for playing video and/or audio (details below). The Startup Studio also features "rehearsal mode" light and audio controls (house technician orientation required).
Audio playback from 2 or 4 ceiling-mounted speakers (QSC K12); Front L & R, Rear L & R, All

HD video playback from Video Projector (Barco PGWU-61B)

 

/ screen (automated)

Blu Ray DVD player (rack mounted)

Input options: HDMI, VGA, 1/8″ stereo mini jack or stereo RCA (audio only), XLR (for mic).

A/V controls through a rack mounted LCD touchscreen.

General lighting in the room is 2 circuits of recessed LED pot lights.

Additional ground-mounted LED lights, with a number of lighting pre-sets.

A manual system of blinds is available to black out the space.

Black curtains can be deployed along a track around the entire perimeter.
Technical Information (Rehearsal Mode ONLY)
Please note The Startup Studio Audio/Visual system has two modes: Presentation and Rehearsal; renters requiring the more complicated Rehearsal mode will need assistance from our House Technician; technician rates available upon request. 
Sub woofer(QSC KSUB) and 2 powered speakers (QSC K10) for use as monitors

2 stands 

Mixer with 10 inputs / 2-bus (Behringer Xenyx 1002B)

16 channel input snake with XLR connections 30′ length

8 channel output snake with XLR connections 24' length

2 audio sub panels in SW / SE corners: 8 sends to / 2 sends from per panel (XLR connectors)

1 audio main panel on column: 8 sends from / 2 sends to each audio sub panel (XLR connectors), 4 sends to speakers (XLR and 1/4″ connectors)

Note that the wall Mounted mic input is disabled in this mode.

A separate DMX OUT port is located in the bulk head above the column.
Please be aware that any unplugging, repositioning or any further changes made to the lighting in the Startup studio will require a designated 110 Arts lighting technician at an additional cost. 
If any changes are made without our lighting technician, an invoice will be sent to the renter for any further cost incurred.